Monday, June 13, 2022
Shop Surprise and Baron Goodbye's! ✨
The Baron's monthly visit is coming to an end! ?‍☠️
Word on Mainstreet is the Baron will be setting sail very soon! Climb aboard the Airship to secure this month's free costume, Boxing Barb by Nervous Star, and the Cabin of Curiosities' collection! 
Spruce up your clubhouse with new decorations from the two most recent dream islands, Jade Scarab and Goofball! Decorate your rooms with the Ancient Egyptian Sarcophagus (100 credits) and Jade Scarab Column (50 credits) from Jade Scarab or add some silly flair with Goofball Gems (100 credits), Emperor Statue (50 credits), and Ancient Goofball Island Artifact (250 credits). ?
The Baron's Jade Scarab and Goofball island decorations are also being offered in the clubhouse store, alongside other island-inspred gear and previous month's merch from the Cabin of Curiosities! ? Other notable clubhouse highlights: Owl Lamp (150 credits), Soda Pop Station (250 credits, members only), Carrot King Sign (100 credits), and Stuffed Camel (300 credits).
Not one to be outdone by her sky pirate nemesis, Amelia's restocked her costume inventories  in Adventure Outfitters! Shall we browse the latest update? ?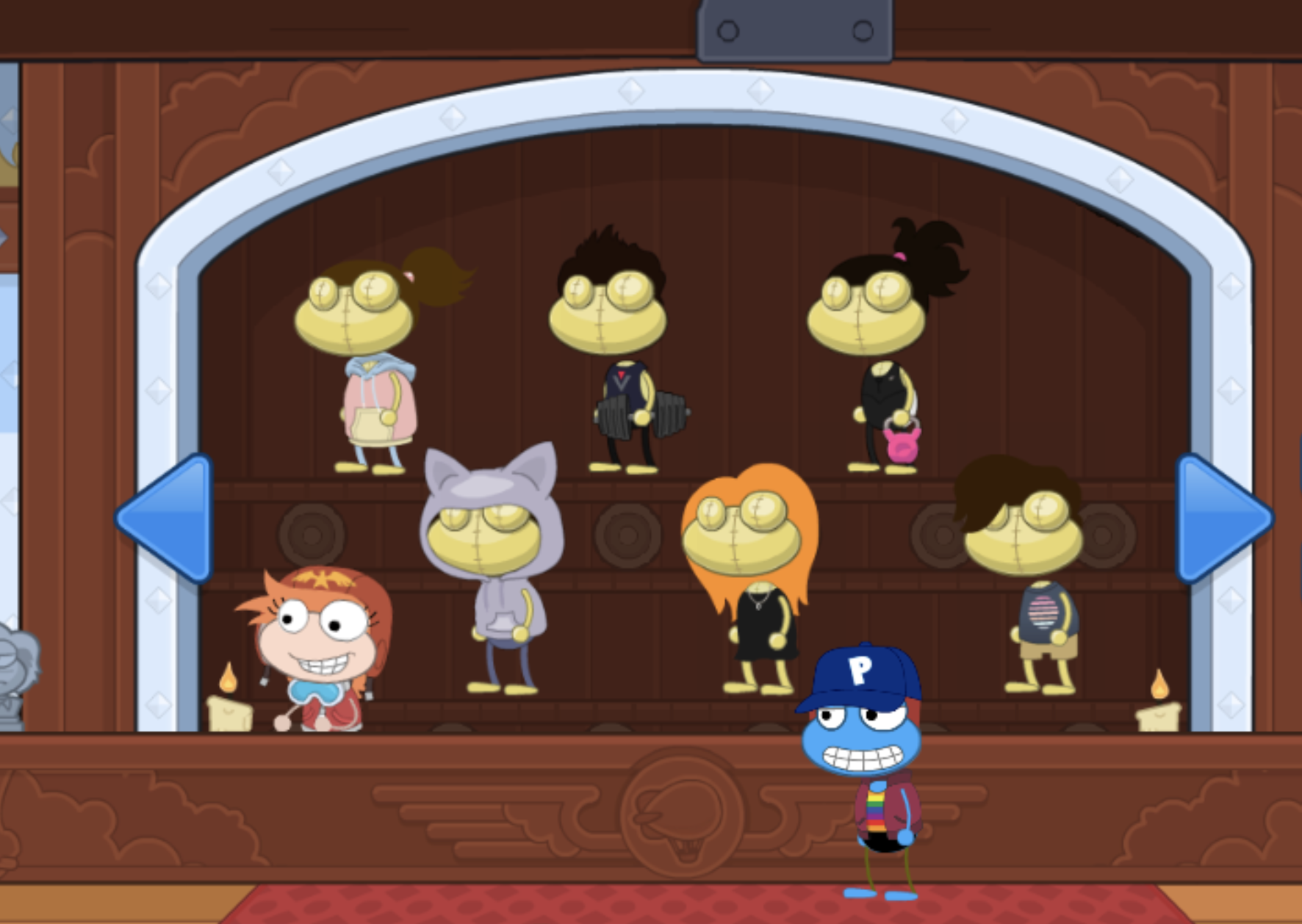 With the updated costume rotation, AO's pets section houses more silly, adorable gear to outfit your furry friends! ???
In case you missed it, all players now have access to 6 of the 7 pet followers (bonus: they're free)! Browse the pet gear's selection, now featuring Fairy Wings, yellow Rain Coat, Rain Hat, Mustache (members only), and Tear Drop Glasses (members only), for 75 credits each.
Don't forget to spread Pride this June! Adventure Outfitters is celebrating Pride Month with free Rainbow Shoes, Sporty Pride costume, and Breezy Pride costume – for free! Players can also add the Choose Love (200 credits) and Rainbow Ride costumes (250 credits), as well as 2 (almost free) clubhouse decorations: the Rainbow Bean Bag and Pride Heart (1 credit each)! ?️‍??️‍⚧️
That's the latest coverage on the shop situations, Poptropicans! What items will you be adding to your closets this week? Can you choose a favorite 'fit from the lineup? Share your thoughts in the comments! ?